"At MGA Restorations, the name says it all!! We passionately restore MGA's. We restore nothing else….and we restore them really well!!!"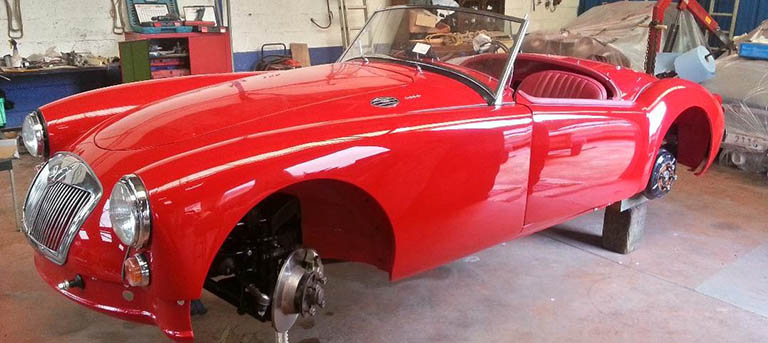 Our restoration chief, Pete Samuels, had had enough of the grind back in his native London.
After 30 years of working in, owning and operating mechanical and classic car restoration businesses, he sold up his home and business and moved to Brittany to enjoy the quiet life and the wide open roads with his collection of classic MG's.
However, the quiet life didn't last too long and he went back to doing what he did best, restoring MGA's. After partnering with a friend in Los Angeles who provides the rust free cars, Pete bought a fully functioning facility, put a team of ex-pat technicians together and with his 30+ years of restoration experience, he started putting the highest quality MGA's back on the road again…..one car at a time!!!

As Pete says, "I've had enough of working with the rusty cars that had seen too many British winters, they needed new metal everywhere to the point they lost a lot of their originality.
That, along with the botched repairs that needed fixing accumulated over the course of 60 years added weeks into the build time.
With the totally original rust free California cars we have in stock now, many that haven't been driven in 30-40 years, you simply get everything to bare metal and begin the fun part of the restoration".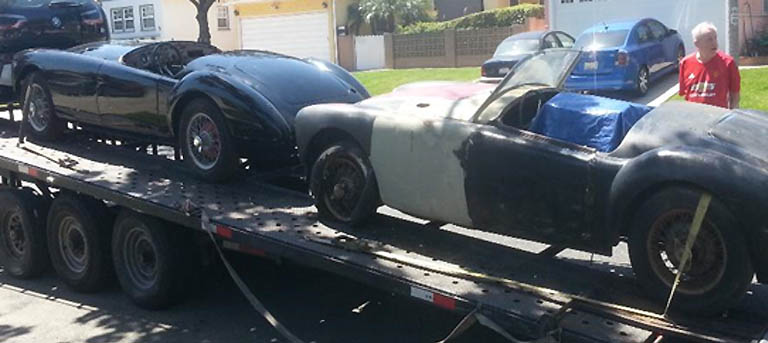 Two cars leaving warm and sunny Los Angeles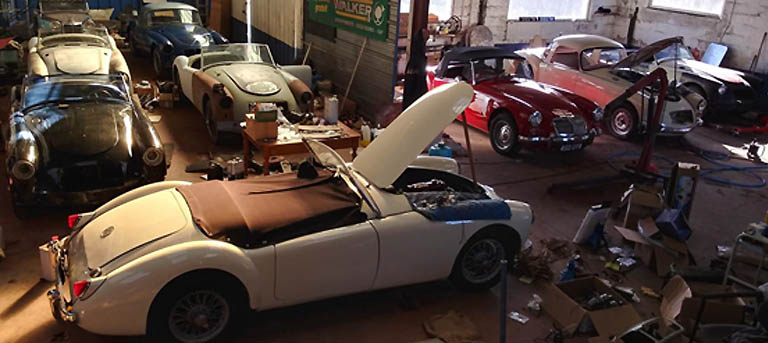 The cars located in our Brittany garage
Our custom design process starts by picking a vehicle from our large inventory
We carry one of the largest selections of ready to restore MGA's in Europe with about a half dozen vehicles or so always available in stock, 1500's, 1600's and Mark II's, roadsters and coupes.
At MGA Restorations, we realize that for a customer to be entirely happy with their purchase, they have to be involved in the entire design of the vehicle before we even turn a wrench. Items such as paint and trim colors, wheel style, top color, five speed conversion upgrade, engine size, etc., need to be discussed in detail so you get the MGA you've always dreamed of.
We only restore one or two cars every year due to the level of detail we provide in each of the builds. We build these cars correctly, and perfection takes time.
An enormous amount of pride is taken in every restoration, and we methodically take our time to get every single aspect of the restoration as close as possible to how it would have come out of the Abingdon factory.
We leave certain jobs to experts we have worked with for over 20 years. These people are the best in what they do performing services like unleading cylinder heads, fabricating interior trim, chroming bright work, etc.
Everything else is done in-house where we have complete control of builds from start to finish, guaranteeing every job is done to our exacting high standards.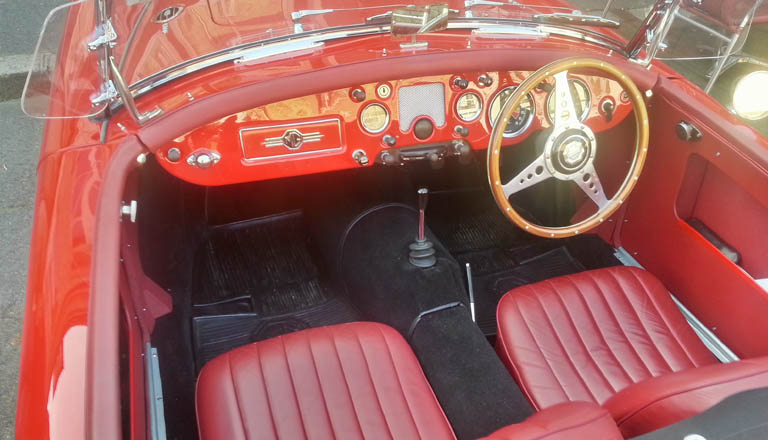 Pete has been restoring of all kinds of classics for over 30 years, but his first love has always been MG's, and in particular the MGA which he has owned, raced and restored for almost 40 years. He will work with you in personally tailoring a frame off restoration specifically to your wants, needs and budget.
We also provide for sale the largest selection of the finest ready to restore MGA restoration projects available in Europe today. All of the vehicles have been imported from the warm and dry Southwest of the USA where rust has not destroyed the frame and bodies over the past 60 years.
We are a couple of hours away from the port at Le Havre and can assist in shipping anywhere in the world. Additionally, we can personally deliver a finished vehicle anywhere in Europe, call to discuss.
Our frame off factory original builds for roadsters and coupes start at €42,500 and rise depending on the level of customization requested. For all of the cars we sell, all import taxes and duties have been paid - there are no other additional fees due.