Every car that come into our Brittany restoration facility is purchased by our buyer in Los Angeles, U.S. We only buy rust and accident free California cars which saves us (really our body guy!) anywhere from 100-200 hours of labor per vehicle.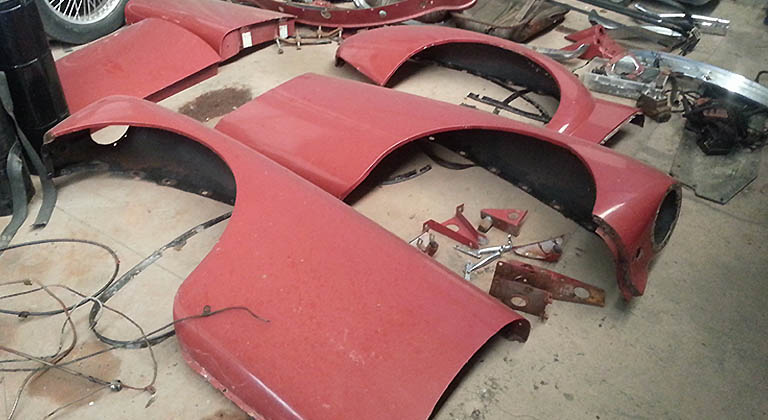 Every MGA starts its journey in our shop with a complete dismantlement.
The car is stripped down to the bare bones and all wings, doors, plinths, boot and bonnet lids, brakes and suspension are removed until all that remains is the bare body and frame.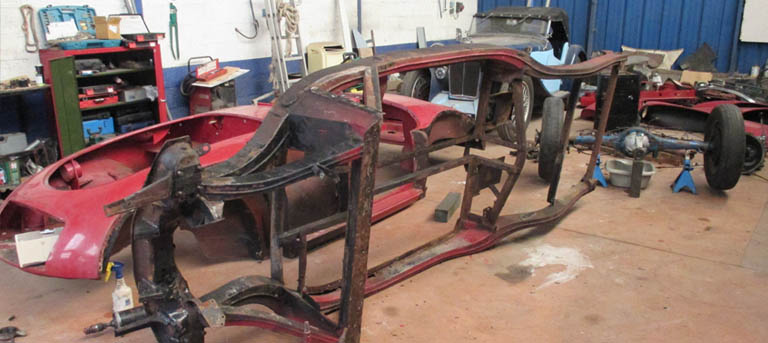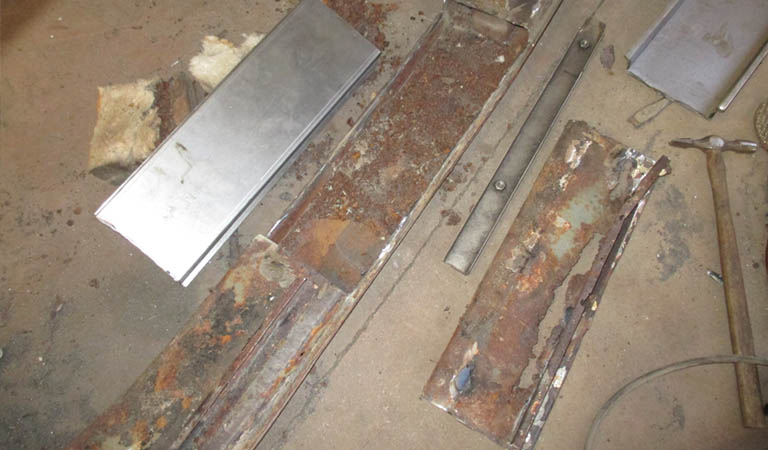 The frame from an English coupe that needed extensive repairs
The frame is then sandblasted down to bare metal to see its condition.
We've seen enough of these frames over the years to realize that in the 60 years or so these cars have been around, restorers without the proper skill set, or those who have no interest in doing a proper job will cut corners.
Any repairs we consider to substandard and unsafe are cut out and new metal is welded in so that when primed, you wouldn't even know repairs had been made.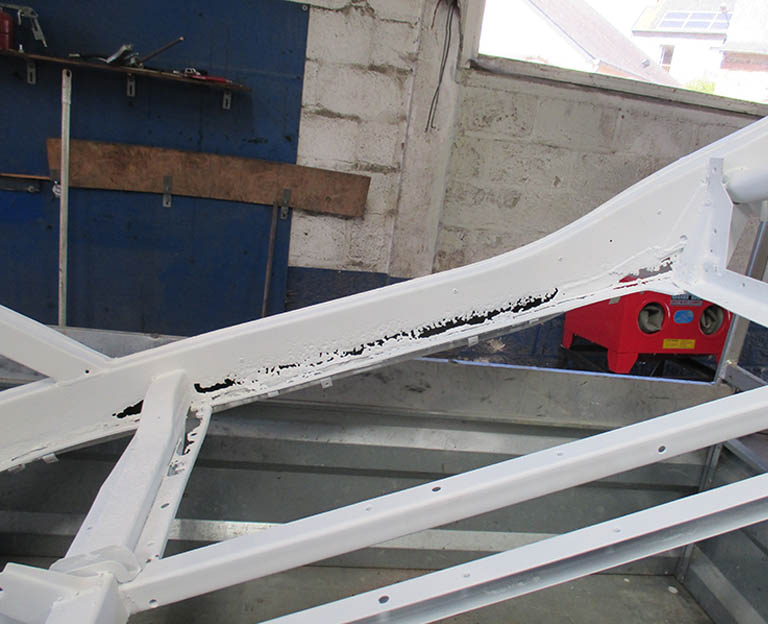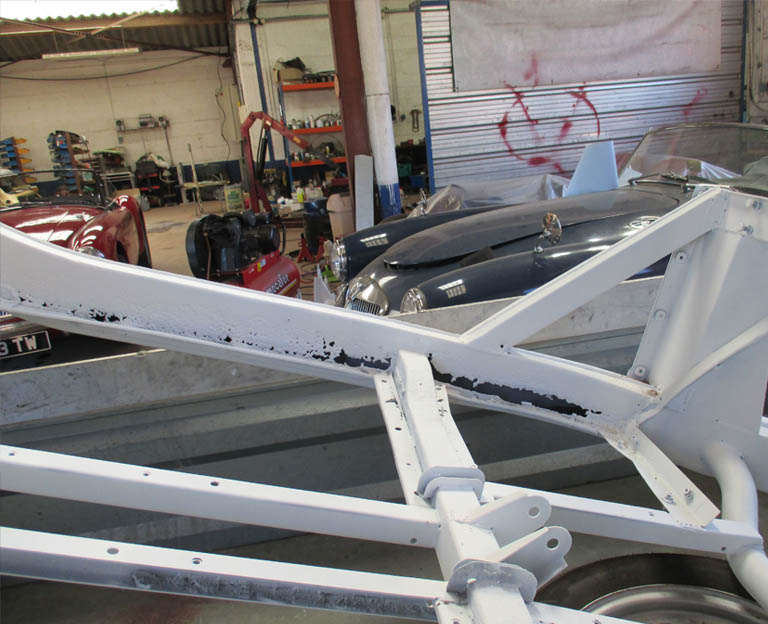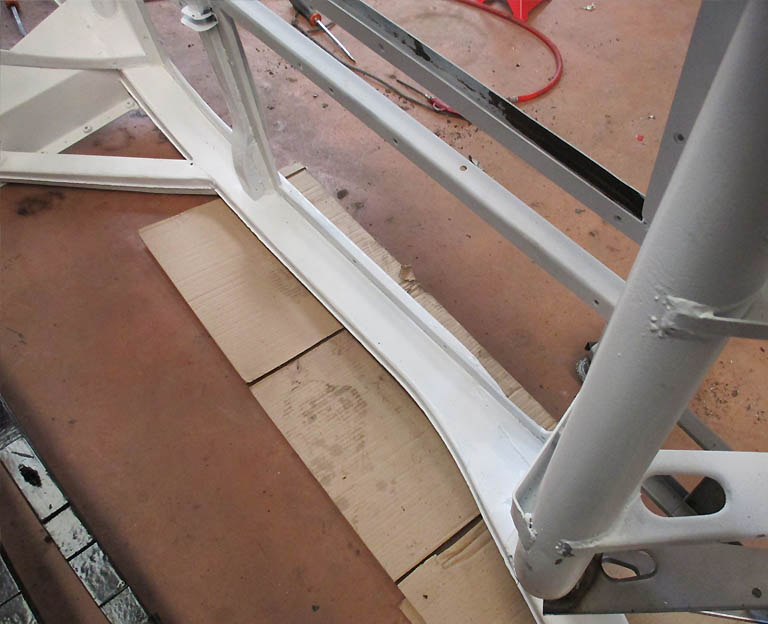 After the frame repairs, we coat it with primer and then hand paint it with 2 coats of hammerite.
We've found that that chassis' coated with this tend to be in superb condition, even after years of heavy driving in cold and damp climates.
When our restoration chief restored his own MGA in 2017 for the second time, 32 years after he first restored it, he found that the hammerite he had originally applied had left the frame was in superb condition, no dents, dings or rust.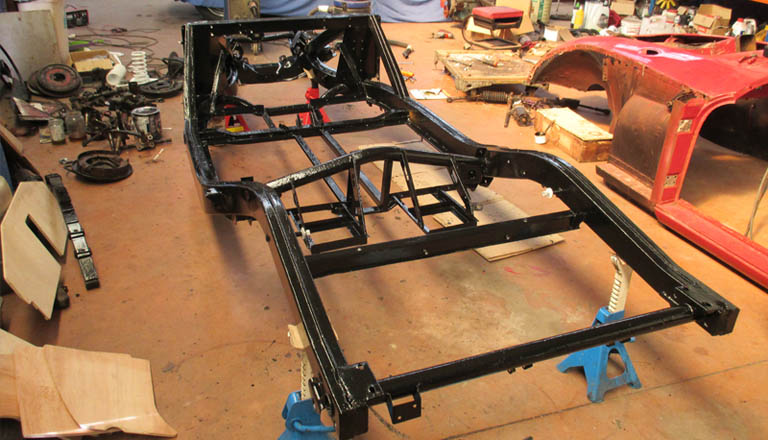 Once the frame is painted, we start the process of putting the brakes, piping, suspension, new wood floors, etc., back onto the car.
Every single part we remove from the vehicle is thoroughly checked for wear and tear. If we find they are too fatigued, cracked or fractured, we replace them.
Our goal is to keep every one of our MGA's as original as possible by restoring as many of the original parts to how they would have left the factory.
If, however, we deem these parts to be unsafe, we replace them….regardless of the cost.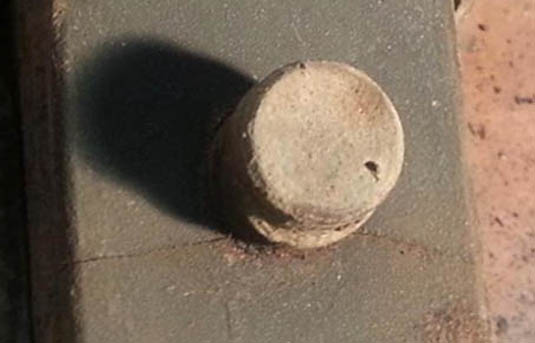 A fractured rear leaf spring that was replaced.

Safety comes over originality in every car we send back out on the road.
Every vehicle also gets brand NEW brake kits which include wheel cylinders, hoses, piping, pads, rebuilt calipers, brake and clutch master cylinders, cloth wiring loom, clutch, tires and much more regardless of condition.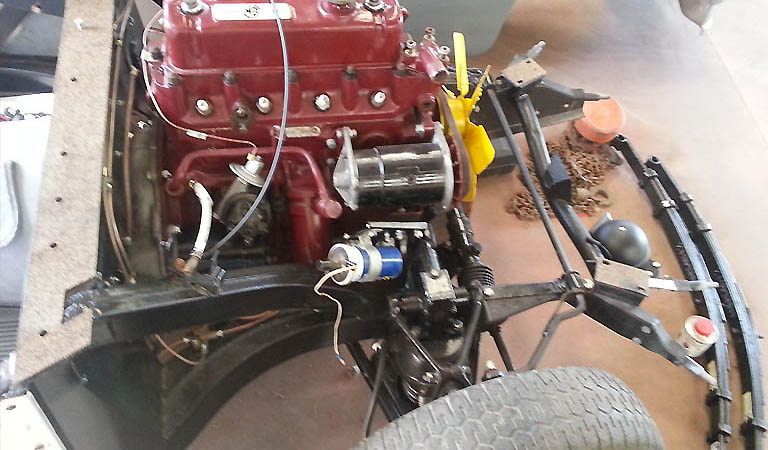 The next step in the process is to begin stripping the body, wings, doors, dashboard, etc., all to bare metal. This is one of parts of the restoration we dread as its at this point we find out what we really have lurking under the paint.
When we find substandard repairs, we fix them correctly, its as simple as that. We are very lucky to have one of the best body/paint/fabricator/welders in the business. He is an absolute perfectionist who cut his teeth restoring concours E-Types, Porsche 917's, classic Ferrari's and more.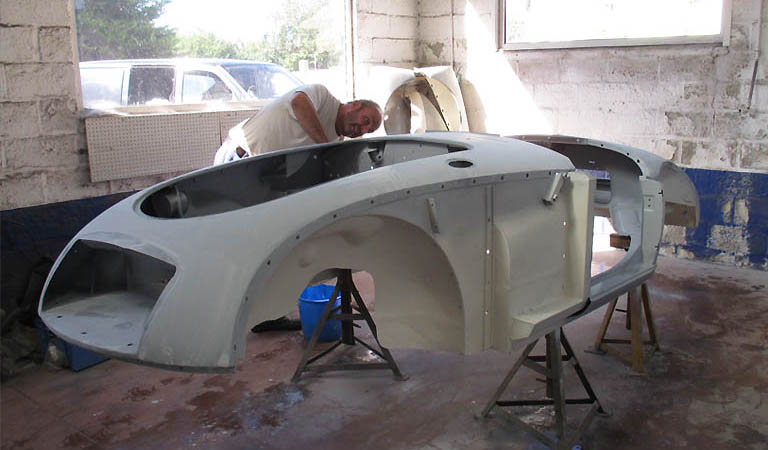 We hammer out by hand any small dents and put a light skim of filler in places where its necessary to smooth out any imperfections that are left.
The vehicle is then shipped off to the paint booth and coated in a layer of etch primer, a hi-build primer and then several coats of paint.
From absolute perfectionism in preparation, to sanding, sanding and more sanding, our paint jobs simply must be seen to be believed.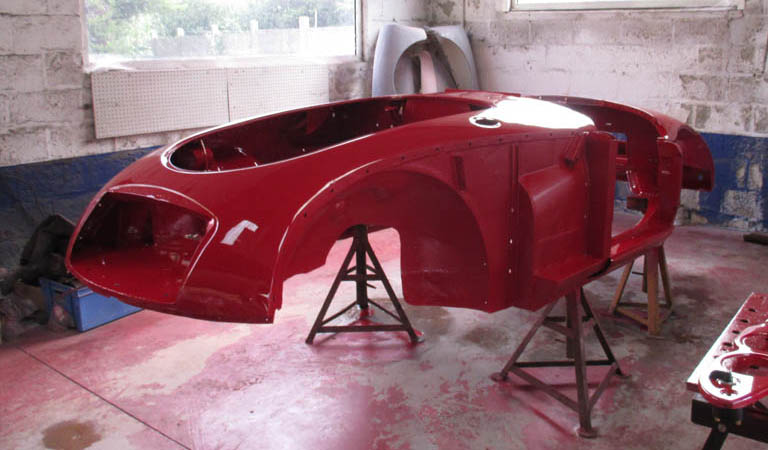 The next step in the process is to tackle the powertrain. Every engine and transmission that comes with the vehicle is stripped down to the bare block, hot tanked and rebuilt to ensure it is as good as when it left the factory.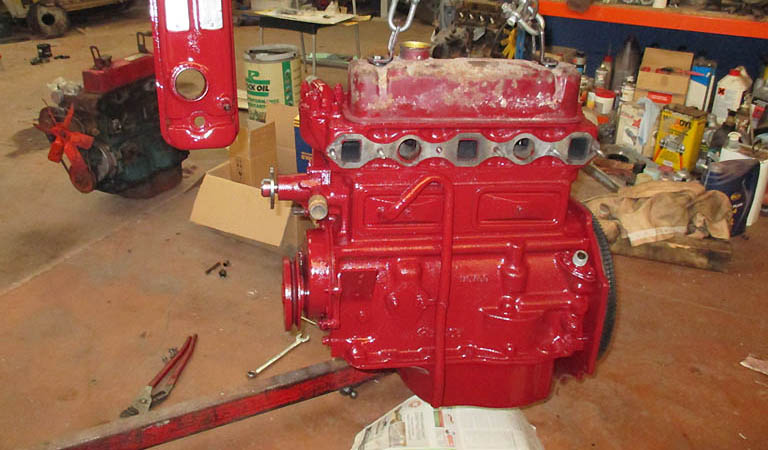 All cylinder heads are magnafluxed to test for cracks and then converted for unleaded fuel use.
We check every internal part including the crank, cam, bearings and more and if we find they are too worn they are replaced.
Our team has over 30 years experience in MGA engine rebuilding and know exactly what to look for and replace in every powertrain we take apart. In that time we've built dozens of MGA engines ranging from completely stock, all the way to hi-end engines strictly for racing use.
After the engine has been painted the correct Maroon Red and installed, the newly painted body is then carefully lowered onto the chassis.
At this stage, the car is ready for its finishing touches with a new convertible top, wheels and tires, seats and carpet, dashboard with refurbished gauges, chrome, etc., added so its ready to be driven for the next 30 years….just like Pete's car below!!!