At MGA Restorations, we realize the purchase of one of our cars is an enormous investment, and for that reason we go the extra mile in the restoration process so your MGA will be protected for many years to come. Its the little things we do in the build process, things a customer will never see that sets us apart from other restoration shops.

We've seen so many cars over the years where corners have been cut and poor repairs that have been made to save the builder some money, but ultimately, put the customer at risk driving the vehicle.
Simply put, we refuse to compromise build quality and do not cut any corners in our restorations whatsoever.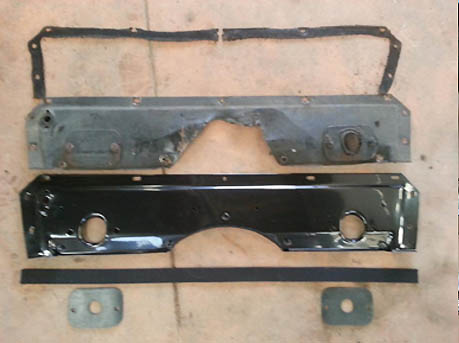 A toeboard we replaced off a customers 'frame-off' restored car!!
During the build process outlined, we use only factory spec. hardware from suppliers like Sportcar Metal Works, Moss, and in particular Clarkes Spares who supplies many parts we've been forced to fabricate ourselves for years to replicate in minute detail how they would have left the factory. We never use leftover and mismatched materials just lying around the shop we find on the vehicles we purchase for restoration. Every single nut, bolt, screw and fastener is purchased with a specific use in mind.
Our restoration chief Pete Samuels was an MGA concours judge for the MG Car Club UK at one time, and knows every single piece down to the tiniest fastener that goes into these cars. Its the little thing that go a long way to make our restorations some of the most original looking MGA's you can find in the market today.
When Pete builds a car, he builds it like he is building his own vehicle, he simply knows no other way to build these cars and wants everyone who purchases one of our cars to have the exact same experience he has had driving his own for the past 35+ years.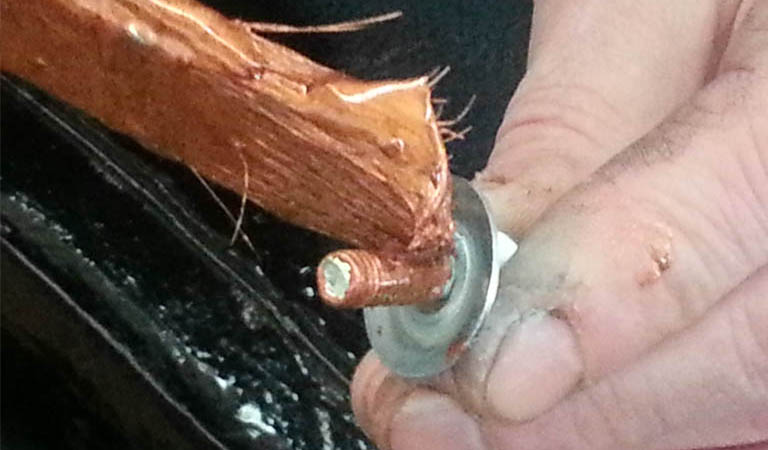 Every bolt and screw gets a liberal covering of copper grease which not only protects it from rust, but also allows it to be removed easily even years down the road if repairs are needed.
If you've ever restored a vehicle before, you'll appreciate this extra little touch. Its a courtesy we provide to the next person having to work on their vehicle.
We also generously apply a liberal amount of Waxoyl in all box sections and in the wheel wells behind the splash plates to protect the metal in all areas where water can sit and rot from within. This includes all box sections, both A & B pillars and all splash panels.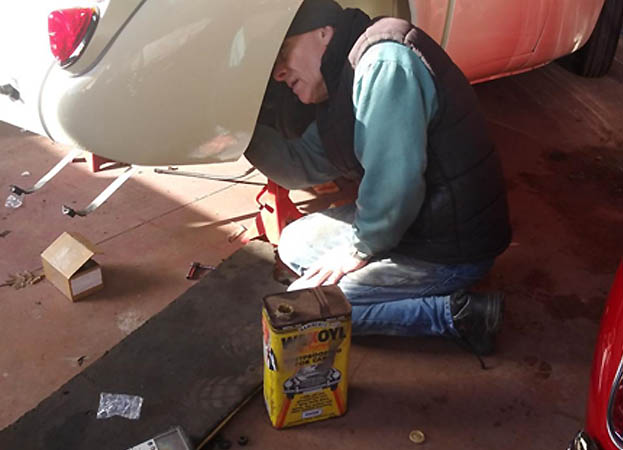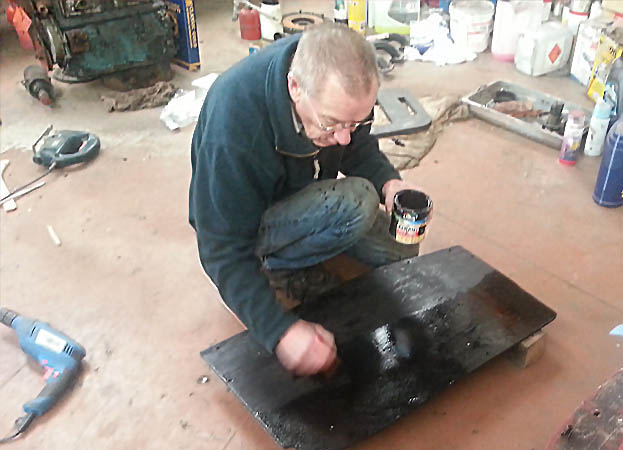 One of the areas that is at most danger to the elements are the exposed wood floors.
Therefore, the 7 marine plywood floor panels we install receive four coats of wood preserver & black exterior quality wood paint.
Every chassis gets two coats of hand painted hammerite applied to it.
By hand painting the frame with two coats in our shop, we are assured that no part of the frame is missed so rain and damp don't get in and rot the metal from within. This guarantees the frame will be as good a condition in 20 years as it is now.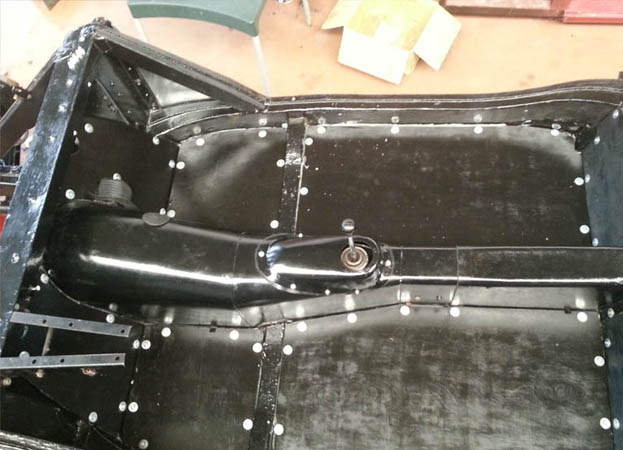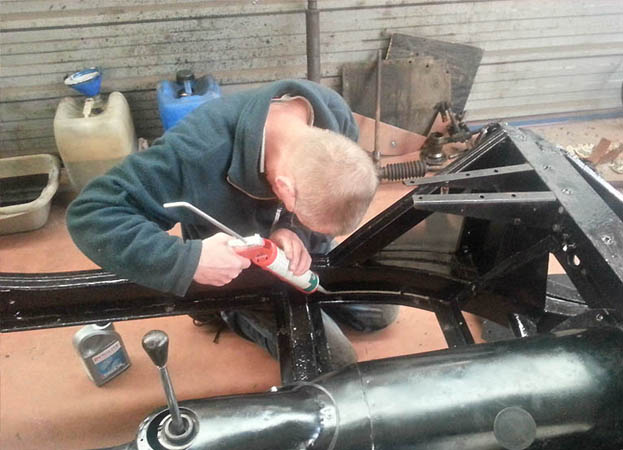 Once the floor has been fitted, all of the outer edges the wood floor sit on are coated with an epoxy sealer.
This prevents any damp or rain from getting in that could potentially rot not only the wood floors, but also the frame and floor rails.
Over the years, Pete has spent countless hours in his shops replacing damaged copper piping due to the ethanol used in modern fuel blends….a potentially deadly situation. Therefore, all of the A's he now restores use Cupronickel. This material is more expensive than standard copper, and more time consuming to install as the pipes have to be manually cut and fitted.
However, the upside of Cupronickel is that it is extremely sturdy and resistant to damage, so much so that when you come to restore your car again in 30 years, you simply take it off, clean it, and re-install!!!
These are just a few of the many, many things we do that you will never see in our restorations that ultimately make the car safer, protect it from the harsh environment and safeguard your huge investment for decades to come.